Want to learn about using geography to connect with others from a non-geographer background? Pull up a chair and let AGS Chairman, Chris Tucker, tell you his story.
Growing up in a small town in Florida, Tucker came to the big city of New York to study at Columbia University. During his undergraduate years, Tucker lucked into a work study job in Columbia's Provost Office, working for a young Michael Crow. For seven years, throughout his undergraduate and graduate studies at Columbia, Tucker worked for Crow as an aspiring science and technology policy practitioner and scholar, completing his PhD. Tucker also had the good fortune to have the father of evolutionary economics, Richard R. Nelson, and the famous urbanist, historian and political scientist Ira Katznelson as doctoral advisers.  But, he missed any opportunity to study geography, as Columbia had closed its geography department when he was an undergrad.
Tucker left Columbia to become the founding Chief Strategic Officer of In-Q-Tel, the CIA's venture capital fund, applying his knowledge of organizing R&D, science and technology policy, and the technology and innovation challenges of public bureaucracies.  Yet, quickly, Tucker found himself deeply involved in the geospatial technology, data, and analytical considerations of the US national security community – since all actionable intelligence exists in space and time. Following In-Q-Tel, served as CEO of a geospatial technology firm, taking it from startup to acquisition by ERDAS.  For more than a decade, he has served on the Board of the Open Geospatial Consortium, which is the international standards body for geospatial technologies, as well as the Board of the United States Geospatial Intelligence Foundation.  He has served on the Secretary of Interior's National Geospatial Advisory Committee, the Defense Science Board's Intelligence Task Force, and many private sector boards.
As a non-geographer who has been neck deep in particular aspects of geography and geospatial technologies for much of the past two decades, Tucker has a particular viewpoint.
"Back 165 years ago, when the AGS was founded, the 'geo ecosystem', for lack of a better term, was anybody who cared about what was beyond the horizon. Explorers.  Surveyors.  Industrialists.  Thinkers.  Public officials," says Tucker.  "During that era, the practice of geography was limited to a relatively small cadre of people with the education, resources and equipment to characterize and understand new geographies.  Today, it could not be more different.  The geo ecosystem now has no bounds, infusing everything we do.  It's in every cell phone.  In our cars.  In the screens on the seatbacks in our airplanes.  Everyone can see over the horizon, whether from space-based sensors, or due to the contributions of millions of OpenStreetMap editors from around the world.  Geography is now at the center of our very existence, whether we are a child playing Pokemon Go, or a grandmother posting geolocated iPhone photos to Facebook.  Geography has become the basic fabric through which we engage each other to solve problems." This basic concept of connection is the meaning of geography for Tucker.
"The rise of GIS and remote sensing in the 1960s and 1970s gave a new lease on the life to the field of geography, which, within the Academy, had a rather rough go of it in the second half of the 20th century. You are now seeing a renaissance in the geographical thinking, concepts, and insights that the discipline of geography has fostered for generations.  But, much of this is because of the new geographical awakening that technologies like GoogleEarth, GPS enabled smart phones, and commercial imaging satellites has brought to the general public. A huge cohort of technologists and professionals from many different sectors are now  harnessing the power of geography, opening opportunities for cross fertilization across fields, with space and time as their common denominator."
Tucker believes that while many of these technologists and professionals will not consider themselves geographers, they are using geographic tools, data, and analytical methods to get their problems solved.  An ever increasing number of people are identifying as geographic enthusiasts and map nerds.  And, in pursuit of their passion, many are learning the value of the deeper insights cultivated by the field of Geography.
Tucker's democratic view of geography, as a transformational worldview, not just an academic discipline, has animated much of his work in business, government, and in the social sector.  "Everything that has ever happened on the planet Earth has, by definition, happened in space and time…literally," Tucker is often caught saying, pointedly.
This worldview is at the core of one of Tucker's philanthropic social ventures called MapStory.org – what he likes to call 'the atlas of change that everyone can edit'. "MapStory offers a place that allows for the accumulation of knowledge at global, regional and local scales, in the past, present and future."  In MapStory, everyone on earth can organize and share what they know about the world in terms of spatio-temporal data, and stories based on this data.  This may be data about how your hometown grew, building by building, road by road, etc.  It may be mapping changing patterns of crime and crime rates locally or nationally.  If might be about the spread of invasive species or diseases.  The ultimate goal is to enable a global community to come together and organize and share everything that has ever happened on earth, in space and time, and to let each person share their insights into this data through the power of MapStories.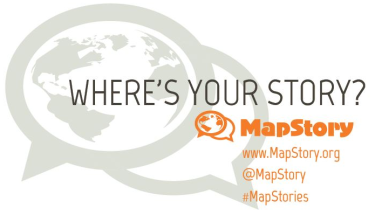 Beyond his emphasis on the dual concepts of space and time, Tucker also demands that we all think about the future, and the trends shaping the future geography of our planet.  When Tucker was added to the American Geographical Society's (AGS) Council, the first role he took on was as the chair of the Society's inaugural Fall symposium – Geography2050.  For Tucker, Geography2050 was an attempt to evolve the AGS' posture in the geo ecosystem, convening thought leaders to think geographically about our future.  Tucker says, "Geography2050 is a multi-year strategic dialog about the vital trends that will reshape the geography of our planet by 2050." Although Tucker admits that 2050 is an arbitrary date that is quite distant, he did this for a reason.  "I wanted to liberate folks from the near-term myopia that is often demanded by budget planning cycles, quarterly financial goals, business plans, and the like.  I want experts to open their aperture, and to think broadly about the kinds of factors that will shape the future, even if they cannot currently fully see how they will play out.  This enriches the community dialog."
"In general, if we are not thinking about the future of our planet – I am not interested. The Society helped map the American West and to explore the Arctic and Central and South America back in the days when those were unknown frontiers.  For sure, there are still parts of our planet that require better mapping, and more sophisticated geographical thinking about lesser known regions.  And, the Society will continue to foster these efforts.  But, to do this in lieu of thinking geographically about the future of our planet would be a travesty."
Tucker has been instrumental in bringing new members to the AGS Council who represent this new generation of geospatial technology, data, and analytical experts and business leaders.  Since its founding, the AGS Council has always been comprised of leaders from industry, academe, and government.  However, in 1851, there was no such thing as a geospatial technology and data industry.  So, bringing representation from this dynamic and even explosive industry sector seemed only apt.  
But, Tucker's true priority is to transform the AGS in to a "platform for participation" that brings geography to all people, from every segment of American society, and allows them to participate in the life of the Society both advancing geographic practice and insight, and engaging in public service through geography – making the world a better place. Tucker believes that there is a huge "cognitive surplus" out there, looking for a place to deploy its energy in a way that will make the world a better place. There are people who have cultivated amazing geographical skills and insights that they yearn to apply to initiatives that can improve their communities and the world around them. And, there are enthusiasts who would love to spend their time learning more, and applying this knowledge to public service. As Chairman of the AGS, Tucker is working hard to build pathways by which such people can become involved in the life of the Society.  "Nothing has been more fun and fulfilling than working with motivated and inspired individuals with great ideas such as GeoBadges.org, GeoPlunge, and our new digital edition of FOCUS on Geography.  Each of these initiatives offers a global platform that everyone can get involved in.  The willingness of these thought leaders to bring these initiatives into the life of the Society will enrich us all.  Anyone, whether geographic expert or geographic enthusiast now has new and exciting ways to engage in public service through geography."
In the end, Tucker encourages two things – "color outside the lines, and look to the future".  
By "color outside the lines" Tucker points out that it is by rejecting preset institutions and norms and working at the interstices of different domains that innovation occurs.  This has proven true time and time again, whether one looks at the intersection of wireless telecommunications and GPS-based location that brought GoogleMaps navigation to your smartphone, or whether one looks at the intersection of biotechnology and robotics that is allowing for the mass global sequencing of the world's genome and mapping human history through genetic anthropology.  Referring to himself as an 'instigator', Tucker says, "If I see something that seems like it should be connected, I just do it and do not wait for permission. I am not always right but it forces a conversation on people who may not have thought about the idea."
And, to "look to the future," Tucker encourages all of us to be future oriented because too often people are afraid of the future, or do not take the time to lay the groundwork for future success.  "Rome was not built in a day.  Anything worth doing takes time and forethought.  And, you must think strategically about both the the future world state that you want to forge, and the vital trends that you will have to contend with along the way," says Tucker.
Geography is a discipline which allows for the breaking of barriers and formation of connections that help us navigate our future, in more ways than anyone has ever thought before. Chris Tucker's background as an innovator, thinker, social entrepreneur and businessman is enhanced and reinforced by his passion for geography.
Mariesa Outridge